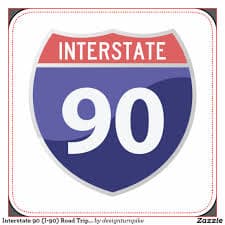 Sunday we will be packing up our semi-trusty SUV we call 'Old Betsy' in preparation for hitting the road early Monday morning for a two week vacation in New England.
Old Betsy is almost 15 years old and has about 202,000 miles on her.  She's seen a good part of this country on the way to various baseball tournaments and dance competitions over the years, but she's been in semi-retirement for the last three years, rarely leaving the driveway except for a quick errand or the occasional kayak trip.
We're taking her because this trip is a bit different than the last one we took two years ago.  That time it was just Linda and I, whereas this one will also include our three adult kids and our 80 pound dog.
We will also be loaded down with camping equipment, kayaks, mountain bikes and perhaps climbing gear, so if you happen to see a black Suburban heading east on I-90 that looks somewhat like the Griswolds from the movie National Lampoon's Vacation, that would be us.
The main destination of our trip is going to be Acadia National Park where we will be tent camping for 7 days, stopping in Portland for a day on the way.  From there we plan to hit the White Mountains in New Hampshire with the ultimate goal of climbing Mt. Washington.  Then we head south for a few days of beach camping in Cape Cod and wrap things up with a brief stay in Boston.
With any trip there are always some potential things that make you a little nervous.  This trip is no different…
Can 'Old Betsy' make it? Nothing worse than breaking down a thousand miles from home.
It's been a few years since we've traveled as an entire family, and we've never done it for two weeks. Will our kids' habits drive us insane?  Will I lose it and toss their cell phones (which are often glued to their faces) in the ocean?
Will the crazy summer weather follow us to Maine resulting in really crappy, wet, cool days and nights?
Will we be blown off the face of Mt. Washington? It's known to have some high winds and generally crappy weather.
Can our daughters survive "Bear Week" in Provincetown, MA without being permanently scarred? (Great timing on our part, BTW!)
Leaving Linda's parents at home without her being able to check in on them. They're in their 80's and starting to be more dependent on her.
Will Linda and I (especially me) survive not having sex for two weeks? (It's kind of impossible when the kids are in the same tent!)
I just finished up a crazy stint where I was working 16 hour days for 8 of the last 11 days.  I slept very little and ate like crap during that time, so as a result, my brain is mush and I feel exhausted.  I thought about leaving you with a super post before we left, but to be honest, I just didn't feel like it, and Linda is busy with her typical pre-vacation hysteria; shopping, cleaning, organizing, packing, etc. 
With that said, please use this post as your sounding board for anything you want to discuss or comment on.  Basically, just like our 'Open Mic' discussions.  It's going to be the last post for a couple weeks so use it as you wish.
We will be taking our laptop and IPad and will be checking in on occasion to approve any comments that need approving and/or take care of any service related issues.  (So don't get in a tizzy if we don't get back to you right away!)  I'm assuming wi-fi service will be plentiful in most areas up there, but I could be way off base on that too.
Additionally, since one of the goals of this trip is to unplug as much as possible, there won't be any Higher Healing updates or mentoring sessions until we get back, and I doubt if any emails will be responded to. 
So we're off to have a wicked good time and experience some of those famous grinders, frappes, chowder and lobster rolls…Not to mention some of the best outdoors that this country has to offer.
Take care and tootle-loo!