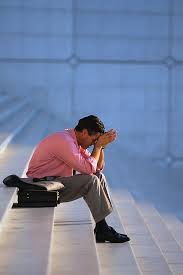 Linda and I have come a long way over the last two and a half years in our emotional affair recovery process.  We seem to be doing all the right things.  We get along great.  We communicate well.  She has forgiven herself and me.  She trusts herself and she trusts me.  But yet every now and then something triggers feelings in Linda that take her back as if my emotional affair happened just yesterday.
When this happens she often will utter a phrase that quite frankly scares me to death…"I don't think I can do this."
It makes me afraid that she would want to give up and leave. Thankfully, this rarely occurs anymore, but when it does I can't help but be concerned.  Thankfully too, is that this emotional state rarely lasts for more than a day.  Linda is a strong woman, but some days are just bad.
Take this past weekend for example.  On all accounts we had a great weekend together.  Our daughters were involved in a weekend soccer tournament and spent some time hanging with their friends as well.  When not watching our girls play soccer, Linda and I had some alone time which we spent a portion of in the bedroom.  We also spent a few hours alone together talking while downing several of our favorite beverages at a local pub.  Finally, since it was such a nice day on Sunday, we spent some much needed time together working out in the yard for several hours.
All in all, we were doing many of the things we want to do as parents – and as a couple.  Yet after it was all said and done, Sunday evening something triggered a reaction in Linda where she became depressed and discouraged. Out of nowhere she started asking me questions about Tanya.
Linda at times still feels that my perceptions of Tanya are those of how they were when my emotional affair first began.  Nothing can be further from the truth.  As a result, Linda feels that she has to do everything she can to live up to those perceptions.  It's the old comparing herself to the other woman, thing. 
She knows she does it. She also doesn't know why she does it.  In my opinion it is probably the last remaining hurdle that she must overcome.
It's hard for her at times, and I understand that.  There will be setbacks in her affair recovery from time to time.  That's OK.  They are becoming less and less as time goes on. 
I'm sure at some point in the future, though she will remember the emotional affair and the profound effect it has had on her (and us), these triggered relapses will happen less and less. When they do occur, their effect on her will diminish as well.
I know that many of you experienced your affair discovery not all that long ago, and the pain and trauma are immense right now.   With help from your spouse, you can recover.  Stay strong.  Keep the faith.  Arm yourself with knowledge.  Have a strategy to effectively use that knowledge. 
Know that with time the pain can lessen and your marriage can evolve into something much better than it ever was. Try to convince yourself that you CAN do this.