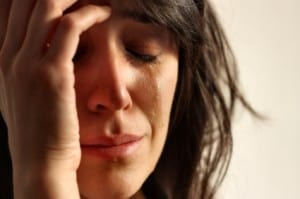 The other day I received an email from one of our mentoring clients who asked some questions about some of her feelings and thoughts related to why her husband chose to end the affair and stay in the marriage.  I believe many of you are either experiencing  these sort of thoughts now, or at least have in the past.
Since I could have written the exact email a few years ago, I think that my response might be helpful so I'm going to do something a little different today and share our correspondence.  (I've changed the names of course for privacy reasons.  I'll call her "Jenny.")
Jenny's email:

Linda,
Do you ever look at your husband and wonder if he is thinking of Tanya? I look at [my husband] often when he's quiet or staring off into space and I can't help wondering if he is thinking of her and what might have been.
I know these are my thoughts and I'm not positive he is doing it, but seeing as how I think about it all the time, I can only assume he does too. He tells me he doesn't think of her at all when I ask but it would be ridiculous to think he doesn't. How do I handle these random thoughts and when can I expect them to go away?
It should be said in the interest of background info for you that they are very much alike, personality wise. At one point, he told me she is him – meaning the female version of him. She is more outgoing, gregarious and in-your-face than I ever was and I find myself trying to be more funny and over the top as a result, which really doesn't work out so well. Lol. It happens when I do something that he may not like or I act in a way he doesn't like.
I constantly think he thinks things would be different with her. I am uneasy and insecure as well because he never really dumped her for me. There was no declaration, no actual choosing, no grand gesture…. I kind of made the decision for him and forced the situation because I knew in the end he wouldn't want to lose his family or money or business.
Because of my choices and what I did, I don't think I will ever trust that he did what he wanted. Am I wrong to want the "big gesture?" He never told her or his family that he stayed with me because he loved me. It was all about the kids, family etc. This really, really bothers me and I think of it often.
My response:
Jenny,
I could have written your comment.  I used to think the same thing but time and therapy has helped tremendously.  How long has it been since your D-day?  If it has been within a year, I would say that this is very common and expected.  However, in my case I kept thinking the same exact thoughts as you do for a very long time and it really took a hit to my self esteem as well as my recovery.
I also could not accept that Doug did not choose me but instead he chose our family and the package.  I would beat myself up for not being "good enough" or worthy of being loved.  I also believed the same ideals about the OW as you do – that she was outgoing, etc.  However, in Doug's words, that was just a façade.  And when you really think about it, a person cannot be that way 24/7 and Doug only saw the positive side of the OW.  It is unfair to compare ourselves to a person that does not really exist.
Going to therapy really helped me with my insecurities and feelings of unworthiness.  My therapist told me that I have the OW way up here (as he pointed above his head), believing that she was some kind of goddess, and myself down here (the ground), believing that I didn't have anything to offer.  It was true.   I did believe that and together we tried to figure out why I felt that way. It stemmed from my fear of rejection and doing everything and anything to feel loved, which went back to my childhood. 
It has helped me to be aware of these feelings and that they have nothing to do with reality.  I have worked on gaining back my self-confidence and believing that I am worthy of love.  It has really been a struggle for me and I often have to question if my actions portray someone who loves herself and is asking for what I really need and deserve in our marriage.
I know that for a long time I tried to be someone that I thought Doug would love.  Now I have realized that I need to be someone that I love.  If that isn't someone that Doug wants then that is his problem, not mine. 
My suggestion (which I wished I would have done a long time ago) is to forget about the OW.  Stop putting the focus on her and focus on all the positive things about you.  I was keeping her way up there, which is the last place I wanted her, and almost brainwashing Doug about all of her positive attributes. 
Honestly, I think back and realize how crazy I was.  I wish I would have sought help for my issues long before I did.  The way I felt wasn't really just about the affair and the OW, as it had been with me for a long time.  The affair just magnified my insecurities and made me crazy!
Please share in the comment section below if you've had similar thoughts and experiences so that others can benefit.

You may also want to listen to the short audio recording with Dave Carder on why men stay after an affair.  You can access it here.